Please take a moment to hear what some of our recent guests shared with us after their event experience at Le Méridien Chicago - Oakbrook Center. Be sure to check back as we'll be incorporating new testimonials when available. If you are interested in learning more, please click here to request more information.

"Also, please note that we had several comments regarding the superb caliber of the service from the staff at Le Meridien. We couldn't have asked for a better place for our guests. Thank you again!"
-Amanda and Thomas
"Le Meridien is the only hotel I use for my client and employee guests. Le Meridien offers the quality, elegance and sophistication that my international visitors come to expect. The service is flawless, the hotel beautiful and the sales department outstanding. Brandon Kielkiewicz, Melanie Pasillas and their entire team – the best in the Chicago area. We have an amazing relationship for which I am very grateful. No request is too big or too small. I never worry about my guests when they stay at Le Meridien. My female guests feel safe and secure which is very important to me. I booked over 20 people last week at Le Meridien and they were all very, very happy. On a scale of 1 (lowest) to 10 (highest), they are an 11."
-Cindy N., Westex
"My family, Chase, and I would just like to thank you for everything you and the staff at Le Meridien did for us. The wedding was beyond anything we could have imagined. We appreciate all of the accommodations you made for us and all of your effort to make it the perfect evening. The servers during the reception were wonderful and so many of our guests have reached out to us to tell us how great the event was. Thank you again."
-Marissa S. and Family
"Thanks so much! We had a wonderful weekend and you all were so welcoming and helpful in every way. We really appreciated the warm welcome and fabulous service! Hope to see you again soon."
-Patty D.
"I recently used Le Meridien to accommodate some overnight visitors. ur guests were welcomed by name and checked in quickly. I especially like the boutique atmosphere that distinguishes this modern design hotel from larger chains. The hotel even has its own signature scent. I have dined at both restaurants and the food and service are excellent. Working with Melanie and Brandon is a pleasure as they tend to every detail. We look forward to introducing our international guests to a stay at Le Meridien next month."
-Carol S., SunCoke Energy
"We received nothing but glowing compliments from all our guests and families about how well everyone was treated, how beautiful the hotel was and about how fantastic the customer service was. We cannot thank you enough."
-Amy & Michael E. (Bride & Groom, October 2014)
"I helped plan our office holiday party this year. We visited so many different venues but I thought, even though it was still being constructed, that Le Méridien was our best choice. The party was beautiful. The room was decked out for the holidays, the servers were very attentive, bar was well stocked and included upgraded liquor. The location of the hotel is ideal. It is right within the Oakbrook Center and is really convenient to the freeway. I would highly recommend this hotel to friends and colleagues"
-Bonna M., SSAB Enterprises Inc.
"Everything was truly wonderful. We have a gluten free employee and the staff was very accommodating. She was very impressed. All of the staff was very helpful from the event manager to the audio visual technician to the food service to the front desk. It was a very good experience and we will definitely consider using Le Méridien again. Thank you so much for everything. You guys are awesome!"
-Carol L. (Leadership Workshop)
"I wanted to provide feedback from our SFDC Kick off Meeting that just ended. Le Meridien did an excellent job in terms of managing the meeting room, projector and all of the food /drinks for the meeting. The food was delicious and presented very nicely. They provided high quality service and everyone was very friendly and accommodating the team. The room itself was very nice and comfortable setting. No complaints at all. The dinner at El Tapeo was good with a casual atmosphere and nice menu. Please send a big thank you to all the staff. Thanks for taking good care of my group."
- Julie A.
"Great experience. This hotel is fantastic. The food and service was outstanding. The staff granted every request and provided great recommendations throughout the week. Breakfast and lunch every morning for 27 people. Coffee and beverage service all day. Never had to ask for anything. They did everything and more to ensure our event was a success. Highly recommend this hotel. The Tapas rest on the 9th floor had great food."
-LScuba
"I would like to drop this note to you to let you know what a great team you have at Le Meridien. InvenTrust Properties held their Annual Meeting and all Board and Committee meetings today on the 9th floor. It was quite a busy day and we had your entire 9th floor booked for these meetings. Our events went incredibly smooth today and I'm receiving many compliments here and I wanted to let you know that most of this credit should go to your team there. Lindsay is not only professional and very easy to work with, but she also goes out of her way to make every detail happen and it showed today. As well as your AV team of Sean and Donovan are truly outstanding – we had not one sound issue the entire day, which is probably the first time that's happened since I started working these meetings and they too are also a pleasure to work with. Additionally, Gabby and your kitchen staff are excellent and did a superb job. Finally, last night I need to work out a detail of a box being delivered to our Director's room and Rebecca (at the front desk) did her best to help us not only locate this box, but keep me calm during the process – she's very good at her job as well. Thank you again – I can't say enough what a great job your team does and the hotel is just beautiful - today was a great success!! Happy Holidays to your team and look forward to working with you again in the New Year!"
-Joanne R.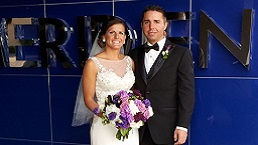 We are so happy that we found such an amazing venue for our wedding ceremony and reception. Le Méridien is a modern, bright, and unique venue that far exceeded our expectations. Working with the staff at the hotel, in particular(Lindsay, Edgar, and Jason) was seamless. Each member of the staff was extremely responsive, accommodating, and met every one of our requests. We were able to enjoy our day, without a hitch. We are still receiving compliments about how excellent the food was, and about how perfect the night was!! We loved every minute of our wedding day, and would do it over again in a heartbeat! If you are on the fence about hosting your wedding or event at Le Méridien, do not hesitate, choose this space- and you will not be disappointed!!
-Lisa S